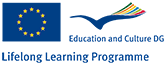 This project (503107-2009-DE-GMP) has been funded with support from the European Commission. This communication reflects the views only of the author, and the Commission cannot be held responsible for any use which may be made of the information contained therein.
VIP-LEVEL5 Software
In VIP the LEVEL5 validation approach was transferred into the informal and non-formal learning context of European projects carried out in the LLP.
Thus the validation was piloted in a number of European projects, networks and partnerships.
The VIP community will continously offer validation opportunities to identify, assess and evidence the learning in European projects and (if you or your project partners like) collaborate with you as EU-project partners in this field.
The competence development in the specific learning context is recorded in the VIP-LEVEL5 software and can be displayed in the LEVEL5-cubes and certificates (all of course on a voluntary basis).
The VIP-LEVEL5 software is web based and can be accessed with a login that can be obtained through the REVEAL community.
Please contact us for more information on our counselling and training servicesand to learn more about how to get access to the validation of competence development in European projects.
The software can be accessedvia the link in the left navigation bar.
CONTACT (if you want to retrieve useraname and password for a demo account