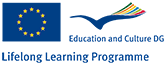 This project (503107-2009-DE-GMP) has been funded with support from the European Commission. This communication reflects the views only of the author, and the Commission cannot be held responsible for any use which may be made of the information contained therein.
Learning Management System
In the VIP LEVEL5 LMS (learning management system) the major procedures of the VIP approach are available as self-learning units.
You also find descritions of how to handle the software and other useful information and learning units.
There is also a course on how to handle the LMS.
Retrieve a password from Tim (REVEAL).
Get to the LMS ->here